National Assembly of the Republic of Serbia / Activities / Activity details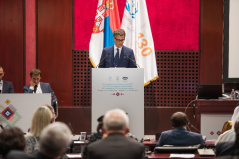 17 October 2019 Mladen Grujic, member of the National Assembly delegation to the IPU and IPU Executive Committee, presents the Belgrade Declaration
Thursday, 17 October 2019
141st IPU Assembly Adopts Belgrade Declaration
The 141st Assembly of the Inter-Parliamentary Union adopted the Belgrade Declaration presented by Mladen Grujic, member of the National Assembly delegation to the IPU and IPU Executive Committee.
---
In the last few days the parliamentarians had a very productive debate on strengthening international law, parliamentary roles and mechanisms and the contribution of regional cooperation. As the product of their hard work, the Belgrade Declaration will be a guidebook for strengthening international law.
"We support strong and effective multilateral institutions, with the United Nations at their core, designed to find solutions to common challenges such as disputes between states and responsibility for genocide, war crimes and crimes against humanity. We also pledge our commitment to strengthening regional cooperation" said Grujic.

According to him, only by respecting international law, avoiding conflict and building bridges, can we make the world a better place. Grujic underlined that international law should be implemented in national legislation.
Previously, at the meeting of the Governing Council, Gordana Comic, member of the National Assembly delegation to the IPU, presented the report of the 30th session of IPU Forum of Women Parliamentarians, and delegation member Dr Aleksandra Jerkov presented the report of the IPU Committee on the Human Rights of Parliamentarians. The Governing Council also adopted the reports of the other IPU standing committees.


---
---
saturday, 16 october
No announcements for selected date