National Assembly of the Republic of Serbia / Activities / Activity details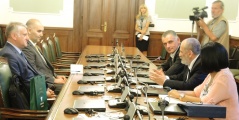 24 June 2015 The members of the Agriculture, Forestry and Water Management Committee in meeting with the Chairman of the Croatian Parliamentary Committee on Agriculture
Wednesday, 24 June 2015
Agriculture, Forestry and Water Management Committee Chairman Meets with Chairman of Croatian Parliamentary Committee on Agriculture
The Chairman of the Agriculture, Forestry and Water Management Committee, Marjan Risticevic and Committee member Zoran Antic met, at the National Assembly, with the Chairman of the Croatian Parliamentary Committee on Agriculture, Franjo Lucic.
---
The officials exchanged views on the situation in agricultural production in Serbia and Croatia and came to the common conclusion that in both countries, it is the small farming households that are in the most vulnerable position.

Committee Chairman Marjan Risticevic briefed his Croatian counterpart on the problems plaguing the agricultural producers in Serbia, with a special focus on the lack of support from the state for small farming households.

Risticevic opined that the IPARD funds that should become available in 2016 are a chance to make up for the lagging technological development of Serbia's agricultural production.

The Chairman of the Croatian Parliamentary Committee on Agriculture Franjo Lucic offered his country's experience, which he believes could prove valuable for Serbia in the pre-accession period.

The chairmen of the two committees also discussed a possible joint sitting and recognised the need to intensify the cooperation between the National Assembly and Croatian Parliament's agriculture committees.


---
---
wednesday, 23 september
No announcements for selected date