National Assembly of the Republic of Serbia / National Assembly / Composition / Deputy Speakers / Veroljub Arsic
Veroljub Arsic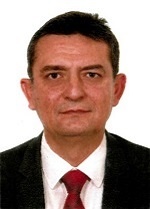 Photo gallery
VEROLJUB
ARSIC
Electoral List
ALEKSANDAR VUCIC – SERBIA IS WINNING
Parliamentary group
Serbian Progressive Party Parliamentary Group
Political party
Serbian Progressive Party (SNS)
Date of Verification of MP's Mandate
03.06.2016.
Year of Birth
1969.
Occupation
economist
Function in the National Assembly of the Republic of Serbia
National Assembly Deputy Speaker
Committee membership
Friendship group membership
Residence
Pozarevac
---
Biography
Veroljub Arsic was born on 28 August 1969 in Pozarevac. He graduated from the high school of electrical engineering at the 13 October educational centre in Kostolac.
Since January 1990 appointed Director of DP "EMICK" Kragujevac, Pozarevac business centre. Founder and owner of PD DOO "VECKO" Pozarevac from 1992 to date. Elected MP in the 2000, 2003, 2007, 2008, 2012 and 2014 elections.
Appointed Head of the Serbian Progressive Party Parliamentary Group in September 2012 and held the post until August 2013, later appointed Deputy Head of the Serbian Progressive Party Parliamentary Group to the end of the assembly legislature's term of office.
Elected member of the Committee on Constitutional Issues, Committee on Trade and Tourism, Committee on Finance and Control of Public Spending and the European Union-Serbia Stabilisation and Association Parliamentary Committee. Head of the Parliamentary Friendship Group with the Czech Republic and Head of the delegation to the Inter-Parliamentary Union. Also, member of the working group tasked with drafting the Public Procurement Law.
Elected National Assembly Deputy Speaker in the X parliamentary legislature in 2014, as well as Chairman of the Committee on Finance, State Budget and Control of Public Spending.
Speaks English and Russian.