National Assembly of the Republic of Serbia / Activities / Activity details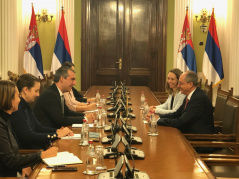 21 September 2022 National Assembly Speaker Dr Vladimir Orlic in meeting with the Ambassador of the Swiss Confederation in Serbia, H.E. Urs Schmid
Wednesday, 21 September 2022
National Assembly Speaker Meets with Swiss Ambassador: Serbia Leading Economic Development in This Part of Europe
The Speaker of the National Assembly of the Republic of Serbia Dr Vladimir Orlic met today with the Ambassador of the Swiss Confederation in Serbia, H.E. Urs Schmid.
---
Declaring the relations between the two countries to be on the rise, Dr Orlic opined that the overall bilateral cooperation can be further improved through the intensification of political dialogue. "We are grateful for Switzerland's support of the comprehensive political, economic and social reforms implemented by Serbia", stressed the National Assembly Speaker.
With a special focus on Serbia and Switzerland's traditionally good economic relations, he said that with its over 650 million euros investments, Switzerland is the second largest foreign investor in Serbia in 2021. "Economic development and improvement of our citizens' living standards is in the very focus of the state leadership's policy, an excellent example of which are the results achieved and the mutual cooperation between Serbia and Switzerland", stressed Dr Orlic.
Ambassador Schmid agreed that the economic relations between our two countries are at a high level, stressing that the improvement of the business environment in Serbia had contributed to the significant volume of investments, especially emphasising the important role of the National Assembly's legislative work in the field. "We believe that Switzerland will maintain a strong position in Serbia this year in terms of investments and that together we will achieve positive results in the areas where Switzerland is active with its 2022-2025 Cooperation Program and its 96.5 million Swiss franc budget", underlined Ambassador Schmid.
"Switzerland is one of our country's most important partners in terms of introducing dual education, a concept personally supported by the President of the Republic, Aleksandar Vucic", said Dr Orlic, expressing his belief that it would represent an important foothold for Serbia's further economic development.
He went on to speak about the recent Special Session of the National Assembly, where the President of the Republic Aleksandar Vucic presented the Report on the process of negotiation with the Provisional Institutions of Self-Government in Pristina. "The issue of Kosovo-Metohija is the most important and serious issue for us", said the National Assembly Speaker, adding that "at the currently held General Assembly of the United Nations in New York, the President of the Republic Aleksandar Vucic will speak about the need to respect the fundamental principles of international law - territorial integrity and national sovereignty of states, which is of great importance to us".
Ambassador Schmid expressed his support for the dialogue, commending the Special Session of the National Assembly with the participation of the President of Serbia Aleksandar Vucic and the open discussion on this important issue. He added that "Serbia leads the economic development in this part of Europe and plays an important role in the stabilisation and progress of the entire Western Balkans region."
---
---
thursday, 29 september
11.00 - sitting of the Environmental Protection Committee (Majdanpek Municipal Assembly Grand Hall, St.Sava bb, Majdanpek)

11.00 - sitting of the Committee on Finance, State Budget and Control of Public Spending (National Assembly House, 13 Nikola Pasic Square, hall 3)

12.00 - sitting of the Committee on Administrative, Budgetary, Mandate and Immunity Issues (National Assembly House, 13 Nikola Pasic Square, hall 4)