National Assembly of the Republic of Serbia / Activities / Activity details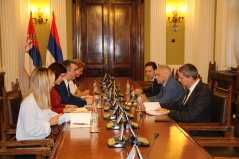 22 September 2023 The National Assembly Speaker in meeting with the Russian Ambassador to Serbia
Friday, 22 September 2023
National Assembly Speaker Dr Vladimir Orlic Meets with Russian Ambassador to Serbia Alexander Botsan-Kharchenko
The Speaker of the National Assembly of the Republic of Serbia Dr Vladimir Orlic met today with the Ambassador of the Russian Federation to the Republic of Serbia Alexander Botsan-Kharchenko. The officials exchanged opinions on the bilateral relations and parliamentary cooperation between the Republic of Serbia and the Russian Federation.


---
Dr Orlic said that all of Serbia is proud of yesterday's speech of the President of the Republic of Serbia Aleksandar Vucic at the United Nations General Assembly who conveyed a strong message that respecting the principles and tenets of the UN Charter is not a choice, but an obligation that has been most brutally trampled in Serbia's case 24 and 15 years ago.
"It was done by those who dispense lessons today, yet still violate Resolution 1244 in the case ok Kosovo-Metohija", Dr Orlic stressed.
National Assembly Speaker Dr Orlic informed the Russian Ambassador about the exceptionally difficult situation faced by the Serbian population in Kosovo-Metohija and the daily examples of violence carried out by Kurti against Serbs. "That is why it is unacceptable to strike an artificial balance by calling on "both sides to reduce tensions" when it is well-known that there is only one generator of violence in Kosovo-Metohija and it is always the same side that is the victim of that violence", Dr Orlic said.
"That is why it is extremely important that the President of Serbia Aleksandar Vucic stressed before the UN General Assembly that a convincing majority of states is today on the side of Serbia and international law on the Kosovo-Metohija issue," Dr Orlic emphasised.
Dr Orlic thanked the Russian Federation for its consistent respect of our country's sovereignty and territorial integrity stressing that Serbia will remain committed to dialogue and the pursuit of the responsible policy of peace and stability.
Ambassador Botsan-Kharchenko said that official Moscow is following everything that is happening and understands Serbia's position, as well as the complexity of the situation.
The officials also exchanged opinions on other issues of mutual interest.
---
Photo gallery
---
---
saturday, 9 december
No announcements for selected date