National Assembly of the Republic of Serbia / Activities / Activity details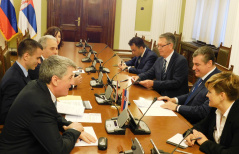 21 May 2019 National Assembly Deputy Speaker Djordje Milicevic in meeting with the Chairman of the Russian State Duma International Affairs Committee Leonid Slutsky
Tuesday, 21 May 2019
National Assembly Deputy Speaker Djordje Milicevic Meets with Russian State Duma International Affairs Committee Chairman Leonid Slutsky
At the beginning of the meeting, the Chairman of the Russian State Duma International Affairs Committee Leonid Slutsky emphasized the traditionally good bilateral relations, evidenced by the intense exchange of visits by the highest dignitaries. He reminded the attending that Belgrade will be hosting the fourth session of the Cooperation Commission of the National Assembly of the Republic of Serbia and the State Duma of the Federal Assembly of the Russian Federation on 3 June, dedicated to the promotion of parliamentary relations between the two countries.
---
Slutsky stressed that his country remains firm in its principled stance on Serbia's territorial integrity and sovereignty, in line with international law. He said that the meetings of the two countries' presidents this year, one on 17 January in Belgrade and another on 26 April in Beijing, testify to the countries' identical views on all crucial matters.
The Chairman of the Russian State Duma International Affairs Committee Leonid Slutsky said that there is room to further cooperation in the fields of economy and energy, mentioning the successful projects of Gazprom, modernization of the oil refinery in Pancevo, TurkStream natural gas pipeline and others. He also highlighted the excellent cooperation on humanitarian projects, especially Russia's input in the reconstruction and painting of St. Sava Temple.
National Assembly Deputy Speaker Djordje Milicevic conveyed the greetings of the National Assembly Speaker and the MPs, emphasizing the traditionally good and friendly relations between the two countries. He said that the Parliamentary Friendship Group with Russia is the biggest one in the parliament, boasting 133 members, which testifies to the closeness of the two nations. Milicevic reminded the attending that last year saw the 180th anniversary of diplomatic relations between Russia and Serbia, and this year was marked by the historic visit of Russian President Vladimir Putin, when great many important international agreements were signed. He also stressed the importance of the meeting of the Chairman of the Russian Federation Council Committee on Foreign Affairs Konstantin Kosachev and National Assembly Speaker Maja Gojkovic on 9 May, day of victory against fascism in WWII.
Milicevic thanked Russia for its continued principled support of Serbia's territorial integrity and sovereignty and voiced his concerns about Pristina's decision to instate a 100% customs tariff on goods from central Serbia and establish the so-called Kosovo Army, which is a brutal violation of UNSC Resolution 1244 and directly opposes all relevant regional agreements, proven by the fact that 13 countries had in the past six months retracted their previous recognition of Kosovo.
He also said that Belgrade would be hosting the 141st IPU assembly in October, which he hopes would be attended by a high-tier Russian delegation.
The meeting was also attended by Foreign Affairs Committee Chairman Prof. Dr Zarko Obradovic, Head of the PFG with Russia Milovan Drecun and Russian Ambassador Alexander Chepurin.


---
---