National Assembly of the Republic of Serbia / Activities / Activity details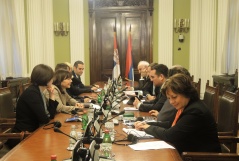 20 February 2014 The MPs talk to the members of the PACE ad hoc Committee for the observation of the early parliamentary elections in Serbia
Thursday, 20 February 2014
MPs Talk to Members of PACE Ad Hoc Committee for Observation of Early Parliamentary Elections
Representatives of parliamentary groups and the National Assembly delegation to the Parliamentary Assembly of the Council of Europe talked to the members of the PACE ad hoc Committee for the observation of the early parliamentary elections in Serbia in a series of separate meetings.
---
The topics discussed related to media freedom and the role of the media in the election campaign and conducting a fair and democratic election.

In the course of the meeting between the PACE Committee members and the National Assembly delegation to PACE, the Head of the delegation Aleksandra Djurovic presented the delegation's activities, adding that she was happy about the imminent adoption of the PACE's positive monitoring report on Serbia.

On the behalf of the Serbian Progressive Party, Dr Aleksandra Tomic opined that the level of media democracy is much higher than in 2012, an opinion supported by both Dubravka Filipovski of New Serbia and Prof. Dr Milorad Mijatovic of the Social Democratic Party of Serbia.

MP Elvira Kovacs met with the members of the PACE Committee on the behalf of the Alliance of Vojvodina Hungarians Parliamentary Group. She also spoke of the participation of national minority political parties in the pre-election process and explained to the Committee members how budgetary funds were allocated for the funding of political party activities in Serbia.

Members of the National Assembly's standing delegation to PACE Natasa Vuckovic and Vesna Marjanovic pointed out how important it was to abide by the principle of equal representation of political parties in the media in the pre-election process, drawing the Committee members' attention to the fact that the role of observer is essential at the local level as well. The Head of the Socialist Party of Serbia Parliamentary Group Dr Dijana Vukomanovic said that there were no irregularities in the election campaign and the election itself would be free and fair.

Among other things, the PACE Committee members asked was what criteria was employed to decide who would be on the electoral list and why most of the MPs were from the capital.

---
---
saturday, 19 september
No announcements for selected date