National Assembly of the Republic of Serbia / Activities / Activity details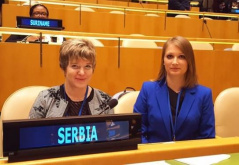 12 March 2019 MPs Elvira Kovacs and Biljana Pantic Pilja at the 63rd session of the Commission on the Status of Women with the topic "Sexism, harassment and violence against women parliamentarians"
Wednesday, 13 March 2019
MPs Take Part in 63rd Session of the UN Commission on the Status of Women on "Sexism, Harassment and Violence against Women Parliamentarians"
MPs Elvira Kovacs and Biljana Pantic Pilja, members of the standing delegation of the National Assembly of the Republic of Serbia to the Parliamentary Assembly of the Council of Europe, took part in the 63rd session of the Commission on the Status of Women with the topic "Sexism, harassment and violence against women parliamentarians" on 12 March 2019 in New York.
---
The Council of Europe, Inter-Parliamentary Union and Finland's Permanent Mission to the UN organized the event as part of the Finnish Presidency of the Council of Europe, to take stock of ongoing legal and policy initiatives to end violence against women in politics, share experiences and lessons learned from their implementation. The event also aims to strengthen partnerships at global, regional and local levels.

Harassment, sexism, harmful stereotypes and the intimidation of women in politics are rampant. They have negative consequences on achieving gender equality by causing and aggravating the under-representation of women in politics and affecting their contribution to political processes. Young women MPs and those women active in the fight against gender inequality and violence against women were often singled out for attack.

To fulfil the commitments of the UN 2030 Agenda and SDG5, as well as of the Council of Europe Gender Equality Strategy 2018-2023, to achieve women's full and effective participation at all levels of decision-making and eliminate violence against women in all spheres of life, strong laws and accountable alternatives are needed to break the silence, protect the victims of abuse and end the impunity of the perpetrators. As a follow-up to the joint study with the IPU, the Parliamentary Assembly has launched the #NotInMyParliament initiative, to mobilise parliaments to take such immediate action to stamp out sexism and violence. In addition, the Council of Europe is preparing a Recommendation to prevent and combat sexism which will also address women in politics.


---
---