National Assembly of the Republic of Serbia / Activities / Activity details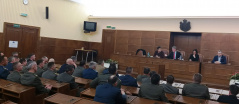 16 December 2019 The MPs in meeting with the students of the 63rd class of the General Staff Course of the University of Defence National Defence School
Monday, 16 December 2019
MPs Meet with 63rd Class of University of Defence National Defence School General Staff Course
MPs Prof. Dr Zarko Obradovic, Chairman of the Foreign Affairs Committee, MA Igor Becic, Chairman of the Security Services Control Committee, and Marija Obradovic, Chairperson of the Defence and Internal Affairs Committee, met with the students of the 63rd class of the General Staff Course of the University of Defence National Defence School.
---
Prof. Dr Zarko Obradovic responded to the guests' questions concerning Serbia's military neutrality, the impact of the migrant crisis on the country, relations with France and the current situation in the European Union.
Obradovic said that, though current, the migrant crisis is a latent problem and we cannot at the moment tell whether it might escalate, adding that Serbia showed that it has good mechanisms and the capacities to take care of the migrants. Serbia is a transit country for the migrants so there should be no security problems.
Commenting on Serbia's military neutrality, Obradovic said that this gives the country room to manoeuvre allowing it to cooperate with different states without bringing its own status and autonomy into question. "Our problem stems from our geographical position. Serbia's geo-political position is such that it has always borne the brunt of competing big powers' interests", he said.
Our country's chief objectives are EU accession, good relations with big world powers, regional cooperation and strengthening cooperation with former members of the Non-Aligned Movement. The recent retraction of the recognition of so-called independent state of Kosovo by a great many countries is a diplomatic coup because it shows that solution cannot be reached without Serbia's participation.
Speaking of the role of the Defence and Internal Affairs Committee, Marija Obradovic stressed that the parliamentary committee is not a mechanism of internal control, but of civil control. She also spoke about the rising interest among women in the security sector and their active participation in the field.
MA Igor Becic spoke about the work of the Security Services Control Committee reminding the guests that it is nowadays considerably more transparent and the people are slowly becoming more aware that all the services are working in their interest. According to him, our country has made some progress at the international level as well, thanks to the modernization of the army and through advanced training and equipment secured a better position on the international scene.


---
---
| M | T | W | T | F | S | S |
| --- | --- | --- | --- | --- | --- | --- |
| 27 | 28 | 29 | 30 | 31 | 1 | 2 |
| 3 | 4 | 5 | 6 | 7 | 8 | 9 |
| 10 | 11 | 12 | 13 | 14 | 15 | 16 |
| 17 | 18 | 19 | 20 | 21 | 22 | 23 |
| 24 | 25 | 26 | 27 | 28 | 29 | 30 |
| 31 | 1 | 2 | 3 | 4 | 5 | 6 |
friday, 14 august
No announcements for selected date