National Assembly of the Republic of Serbia / Activities / Activity details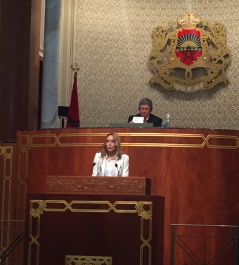 20 February 2016 MP Stefana Miladinovic at the international parliamentary forum on "Promoting human dignity to make living together possible"
Monday, 22 February 2016
MP Stefana Miladinovic Takes Part in International Parliamentary Forum on "Promoting Human Dignity to Make Living Together Possible"
At the invitation of the Parliament of the Kingdom of Morocco, MP and member of the Committee on Human and Minority Rights and Gender Equality Stefana Miladinovic took part in the international parliamentary forum with the topic "Promoting human dignity to make living together possible", at the Parliament of the Kingdom of Morocco in Rabat, 19-20 February 2016, to mark 20 February - World Day of Social Justice.
---
The forum was attended by representatives of parliaments, governments, civil society, trade unions and employers' associations, media, and international experts (UN, ILO, IPU, etc.). The main topics of discussion were: mechanisms and international standards for achieving social justice, Morocco's experience with social justice, the role of parliaments via their legislative function and control over the implementation of public policies contributing to the achievement of social justice.
Stefana Miladinovic addressed the assembly saying that the National Assembly of the Republic of Serbia has recognised the importance of the issue and passed a series of laws contributing to the achievement of the principle of equal social justice and protection of human rights such as the Anti-Discrimination Law, Law on Prevention of Discrimination against Persons with Disabilities, Law on Financial Assistance to Families with Children, Law on Exercise of Right to Health Care for Children, Pregnant Women and New Mothers and the Gender Equality Law. She added that economic and social issues are the focus of parliamentary attention: the right to work, right to protection against unemployment, right to equal pay for equal work, health care and social welfare and the right to free elementary education. She stressed that the parliament needs to cooperate with civil society organisations, trade unions and other civic associations, as well as with independent state bodies. Finally, she concluded that, in view of the ongoing reform processes in Serbia and its EU accession efforts, it is important to maintain and improve all the institutions, laws, political and strategic documents relating to social justice and equality of all citizens.
---
---
wednesday, 19 january
10.00 - public hearing on Artificial intelligence and man in the new digital era, organised by the Committee on Education, Science, Technological Development and the Information Society (National Assembly House, 13 Nikola Pasic Square, Small Hall)