National Assembly of the Republic of Serbia / Activities / Activity details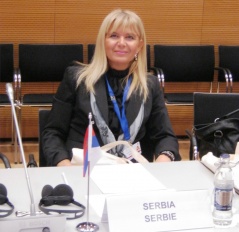 19 October 2015 The Chairperson of the Committee on Labour, Social Issues, Social Inclusion and Poverty Reduction at the meeting of committees on social affairs in Luxembourg
Thursday, 22 October 2015
Labour, Social Issues, Social Inclusion and Poverty Reduction Committee Chairperson Takes Part in Social Affairs Committee Meeting in Luxembourg
In the context of the Parliamentary Dimension of its Presidency of the Council of the European Union, the Grand Duchy of Luxembourg hosted a meeting of the chairpersons of the parliamentary committees on social affairs of EU Member States, in which the candidate countries took part as observers, on 19 October 2015.
---
On the behalf of the Committee on Labour, Social Issues, Social Inclusion and Poverty Reduction, the meeting was attended by Committee Chairperson Dr Vesna Rakonjac and Committee Secretary Zuzana Sic Levi. Besides the chairpersons and representatives of the relevant parliamentary committees of EU Member States and candidate countries, the meeting was also attended by the European Commissioner for Employment, Social Affairs, Skills and Labour Mobility, MEPs, representatives of the competent ministries of the host country and Oxford and Amsterdam universities.

The meeting focused on the integration of the social dimension in all of the European Union's policies, common social values and the re-socialisation of the European semester.

Dr Vesna Rakonjac took part in the debate. She stressed that the Republic of Serbia supports the common social values established by the Renewed Social Agenda and other EU acts such as: creation of new and better jobs, availability of education, social welfare and healthcare, services and solidarity. She informed the participants about the Draft Employment and Social Policy Reform Programme as a strategic document of the Republic of Serbia listing the country's priorities and guidelines for the further development of social welfare, employment, education, pension and healthcare system. Speaking about youth employment she mentioned the Internship Programme conducted by the National Employment Service intended for young high-school and college graduates to prepare them for the licensing exam. The Committee Chairperson also announced that the Government of the Republic of Serbia will be passing a Strategy to boost the inclusion of Roma.

As the host of the meeting, Mars Di Bartolomeo, President of the Chamber of Deputies, said that promoting the social dimension requires cooperation and fostering ties between national parliaments, that investments into infrastructure and economic values are just as important as investments into human capital, also emphasising the importance of parliamentary diplomacy. On the occasion he said that he believed parliaments to have many opportunities to affect European policies which they should utilise.


---
---