National Assembly of the Republic of Serbia / Activities / Activity details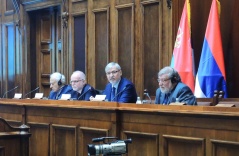 18 May 2017 International Workshop "European Parliamentarians Working Together to Fight Human Trafficking in the Western Balkans"
Thursday, 18 May 2017
International Workshop "European Parliamentarians Working Together to Fight Human Trafficking in the Western Balkans"
The National Assembly House hosted the international workshop entitled "European Parliamentarians Working Together to Fight Human Trafficking in the Western Balkans" co-organized with the UK Human Trafficking Foundation, and attended by MPs from Romania, Bosnia and Herzegovina, Montenegro, Croatia, the UK and Serbia.
---
Meho Omerovic, Chairman of the National Assembly's Committee on Human and Minority Rights and Gender Equality, said that the workshop aims to promote interparliamentary cooperation so as to use the national parliaments' joint capacities and give a personal contribution to the fight against human trafficking. "Combating human trafficking is a global issue and calls for an organised response which means interdepartmental, regional and international cooperation", said Omerovic.

UK Ambassador to Serbia H.E. Denis Keefe said that MPs play a key role in combating human trafficking as they are the ones who launch debates and raise awareness on the issue which is the only way to find a solution. Keefe said that UK's Modern Slavery Act could serve as a model for fighting human trafficking as it had to a great extent helped recognize, suppress and condemn this type of crime.

The participants were also addressed by Anthony Steen, Chairman of the Human Trafficking Foundation who stressed that parliamentary activities are the best approach to the problem of human trafficking. He added that the Foundation's success lies in the extensive cooperation between NGOs and the government sector. He added that states claim not to have any human trafficking and exploitation, but they are just ignoring problem. When the Foundation was launched 10 years ago, the UK claimed not to have any human trafficking, while today the annual number of victims is believed to be 12,000, which at the global level reaches 20 million.

Following the introductory speeches, the MPs from Romania, Bosnia and Herzegovina, Montenegro, Croatia and Serbia exchanged data on the number of convictions, police activities, returnee and potential victims of human trafficking, involvement of NGOs and public awareness, as well as the inclusion of the legislative and executive powers in the fight against human trafficking. Representatives of the United Nations Office on Drugs and Crime also took part, as did representatives from relevant ministries, courts and NGOs.

The participants spoke about best practice examples and steps that need to be undertaken in order to set up similar MOs in the parliaments and parliamentary committees dealing with the issue, improvement of laws and international cooperation, and the importance of the region working together to suppress this modern type of slavery.

The final conclusions concerned the establishment of a network in the Western Balkans viz. an Western Balkans interparliamentary committee against human trafficking comprising parliamentarians from the abovementioned countries and Macedonia.


---
---