National Assembly of the Republic of Serbia / Activities / Activity details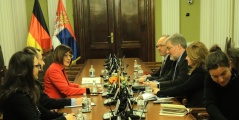 21 April 2017 The National Assembly Speaker in meeting with the Chair of the Bundestag Parliamentary Friendship Group with South-Eastern Europe
Friday, 21 April 2017
Gojkovic Meets with Chair of Bundestag Parliamentary Friendship Group with South-Eastern Europe
The Speaker of the National Assembly of the Republic of Serbia Maja Gojkovic met today with the Chair of the Bundestag Parliamentary Friendship Group with South-Eastern Europe Stephan Albani to discuss the relations between Serbia and Germany and Serbia's Euro-integration.
---
Gojkovic stressed that the relations between Serbia and Germany are at a very high level which the meetings between the two countries' high dignitaries have undoubtedly contributed to, especially the meeting between Chancellor Angela Merkel and Serbian Prime Minister Aleksandar Vucic, while Albani emphasized the importance of continuing the cooperation.

Gojkovic thanked the Bundestag and the Federal Republic of Germany for their support of Serbia's Euro-integration, stressing that the European path is one of Serbia's priorities.

Reminding the guest that, so far, Serbia has opened eight chapters, Gojkovic said that this dynamics is expected to continue and highlighted the important role of the National Assembly on the path to full EU membership.

Stephan Albani said that Serbia's integration is a declared objective both at the level of Parliament and Government and the Parliamentary Friendship Group he chairs would continue to cooperate on the issue with Serbia and the states in the region.

Albani also said that results Aleksandar Vucic achieved in the presidential election confirm Serbia's stability as the central state in the region, stressing that stability is essential for a dynamic development.


---
---