National Assembly of the Republic of Serbia / Activities / Activity details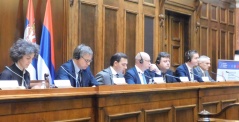 6 December 2017 Participants of gathering on the 2017 parliamentary election in Germany
Wednesday, 6 December 2017
Gathering on "2017 Parliamentary Election in Germany: Results, Coalitions and Reflection on the EU"
The National Assembly House and the Konrad Adenauer Foundation Serbia (KAS) co-organized a gathering with the topic "2017 Parliamentary Election in Germany: Results, Coalitions and Reflection on the EU" aimed to foster cooperation between Germany and Serbia, political and parliamentary relations and Serbia-Germany debate on European and democratic values.
---
The gathering was opened by National Assembly Deputy Speaker Prof. Dr Vladimir Marinkovic who greeted the attending on the behalf of National Assembly Speaker Maja Gojkovic and himself, saying he was pleased that the National Assembly House is hosting a debate on the post-electoral political situation in Germany. "I believe talks like this one contribute to the understanding of the political processes in Germany which can contribute to stronger ties and sincere political dialogue with the members of the Bundestag in future meetings", said Marinkovic. He re-stated that that Serbia's primary foreign policy goal in EU accession and consequently it is important to follow the formation of the new Government of the Federal Republic of Germany which will have a deep impact on the EU and Serbia as a candidate country.
In his keynote address German Ambassador to Belgrade H.E. Axel Dittmann said he was happy to see the interest the Germany parliamentary election had garnered in Serbia which is a sign of the close cooperation between the two countries. The Ambassador said no matter which political parties end up forming the Bundestag, Germany would continue to support Serbia's Euro-integration.
Representatives of the foundations which supported the project Paola Petric, Deputy Director of Heinrich Böll Foundation Belgrade, Lutz Kober, Director of Hanns Seidel Foundation Belgrade and Prof. Dr Dragan Simic, Dean of the Faculty of Political Sciences University of Belgrade, also gave keynote addresses.
Stefan Evers, councilman, vice-president of CDU in the Berlin Parliament, and Dr Sebastian Bukow, political and party survey administrator at the Heinrich Böll Foundation, spoke about the 2017 German parliamentary election results and fallout.
The attending spoke about the impact of the results of the German parliamentary election and assessments. Experts, professors and assistant lecturers of the University of Belgrade Faculty of Law and Faculty of Political Sciences, also spoke about the results of the parliamentary election which was followed by a debate.


---
---