National Assembly of the Republic of Serbia / Activities / Activity details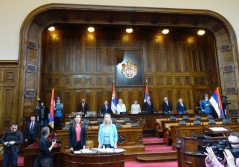 1 March 2017 First Sitting of the First Regular Session of the National Assembly of the Republic of Serbia in 2017
Wednesday, 1 March 2017
First Sitting of the First Regular Session of the National Assembly of the Republic of Serbia in 2017
The Speaker of the National Assembly of the Republic of Serbia Maja Gojkovic convened the First Sitting of the First Regular Session of the National Assembly of the Republic of Serbia in 2017, for Wednesday, 1 March 2017, starting at 10 am.
---
The First Regular Session was opened to the sounds of the national anthem of the Republic of Serbia, "God of Justice", performed by the choir "Carolija".

Before commencing the proceedings the MPs paid respects to the late National Assembly Deputy Speaker Konstantin Arsenovic by a minute of silence.

Afterwards, National Assembly Speaker Maja Gojkovic called a recess at the request of the PG heads viz. the Serbian Progressive Party, Socialist Party of Serbia, Party of United Pensioners of Serbia, United Serbia, Alliance of Vojvodina Hungarians - Party of Democratic Action, Social Democratic Party of Serbia, Socialists' Movement - People's Peasant Party - United Peasant Party, for consultations.

The National Assembly Speaker will inform the MPs about the continuation of the sitting in line with Article 101, paragraph 5 of the National Assembly Rules of Procedure.


---
---