National Assembly of the Republic of Serbia / Activities / Activity details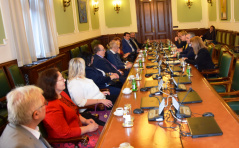 8 May 2019 The Chairman of the Committee on the Diaspora and Serbs in the Region in meeting with the delegation of Serbian radio "Mladost" from Switzerland
Wednesday, 8 May 2019
Diaspora and Serbs in the Region Committee Chairman Miodrag Linta Meets with Delegation of Serbian Radio "Mladost" From Aarau, Switzerland
Welcoming the visiting delegation of Serbian radio "Mladost" (Youth), the Chairman of the Committee on the Diaspora and Serbs in the Region Miodrag Linta listened to the guests' views on the situation in the Serbian community in Switzerland.
---
Andjelka Krasojevic, editor of Serbian radio "Mladost", and Zoran Jovanovic, member of the radio and the Executive Board of the Centre of Emigrants and Serbs in the Region, were the first to speak.
They reminded the attending that Serbian radio "Mladost" was founded 22 years ago as a non-profit organization with the objective of promoting Serbian language and Cyrillic script. The radio show, airing on Thursdays, 8-9 p.m., touches on a variety of social topics. The radio does not have national frequency, just cantonal, but thanks to the internet and social networks it is gaining popularity across Europe and enjoys excellent cooperation with other diaspora radio stations across the world.
Andjelka Krasojevic spoke about the flagging interest among Serbian children to attend additional classes – three classes a week, to be attended by about 20 children of varying ages (grade 1 to 8). She said that it is vital for Serbia, that is its Ministry of Foreign Affairs, to propose a candidate for additional class coordinator because this person would have the mandate to apply for a range of projects, which is what other migration groups are successfully doing. In that case, the Swiss government provides the funds for the projects in question, which is very important for the quality of Serbian children's education.
Dr Bratislav Milovanovic, president, and Stanko Lakic, coordinator of association "Kolevka" (Crib), spoke about the birth rates. They said that each year, more and more people emigrate from Serbia and consequently the birth rates are falling, which is a state-wide problem. Raising awareness among the populace, especially the younger generations, and cooperating with relevant institution, could help reverse this trend.
The officials also discussed facilitating voting from the diaspora, for example via the internet or post.

Committee Chairman Miodrag Linta thanked the guests saying that the Committee would do all that is in its power. He said that the Committee's first duty is to maintain, strengthen and foster ties between the country and Serbs in the region and the diaspora, nurture the cultural and national identity and the unity of the Serbian people.
Milica Petrovic and Snezana Milanovic, "Mladost" activists, and Radoje Blazic of association "Zlatna Nota" (Golden Note) also spoke at the meeting.


---
---