National Assembly of the Republic of Serbia / Activities / Activity details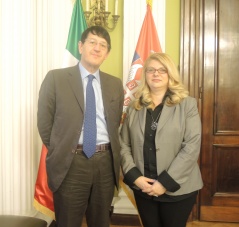 31 July 2015 The Committee on the Economy, Regional Development, Trade, Tourism and Energy in meeting with the Head of Italian Parliamentary Delegation to CEI
Friday, 31 July 2015
Committee on the Economy, Regional Development, Trade, Tourism and Energy Met with Head of Italian Parliamentary Delegation to CEI
The meeting between the Chairperson and members of the Committee on the Economy, Regional Development, Trade, Tourism and Energy and the Head of the Italian parliamentary delegation to the Central European Initiative (CEI) Lodovico Sonego focused on Serbia's NATO and EU membership, promotion of economic cooperation between Italy and Serbia and the invitation to take a joint stand at the CEI general assembly in Skopje.
---
Senator Sonego said that Italy strongly supports Serbia's European integration and is in favour of a speedy opening of the negotiation chapters. However, he believes that the accession to the European Union should not in any way be preconditioned by NATO membership and that the Western Balkan countries should be allowed to freely choose whether they will join NATO, without pressure, following their free will and choice. The Italian Senator said that a declaration is being prepared which would send a message to the European Union about how important it is to continue with the enlargement, and invited the representatives of the National Assembly to take part in the CEI general assembly scheduled for November, in Skopje.

"The meeting in Skopje aims to remind Europe that the Western Balkans remain an open issue whose importance should not be underestimated", said Sonego.

The meeting also touched on the importance of boosting cooperation in the areas of infrastructure, transport and energy, so Committee Chairperson Aleksandra Tomic informed the guests about the scope of the newly-established Serbian Parliamentary Energy Policy Forum. She thanked Senator Sonego for the hand of cooperation he extended to Serbia through his invitation and suggestions and for the message that Serbia should be the pivotal country in the Western Balkans.

Speaking of the extensive economic cooperation between Italy and Serbia, the Committee Chairperson drew attention to the growing interest of Italian agricultural producers for the Serbian market saying that they should be allowed access to the Serbian market via the IPARD funds. Cooperation with the Italian Chamber of Commerce would also contribute to it, added Tomic.

"We as MPs are open to create a high-quality investment climate through new legislation", stressed Tomic.

The meeting was also attended by Committee members Ivan Bauer and Radomir Krstic.


---
---
wednesday, 19 february
10.00 - continuation of the 25th Extraordinary Session of the National Assembly of the Republic of Serbia, 11th Legislature (National Assembly House, 13 Nikola Pasic Square)

11.00 - sitting of the Committee on the Economy, Regional Development, Trade, Tourism and Energy and eighth meeting of the Serbian Parliamentary Energy Policy Forum (National Assembly House, 13 Nikola Pasic Square, Small Hall)

11.00 - sitting of the European Integration Committee (National Assembly House, 13 Nikola Pasic Square, hall 3)

11.00 - the members of the Defence and Internal Affairs Committee and the Foreign Affairs Committee meet with German Bundestag member A. Neu (National Assembly House, 13 Nikola Pasic Square, hall 2)

12.15 - the members of the European Integration Committee and the Foreign Affairs Committee meet with German Bundestag member J. Juratovic (National Assembly House, 13 Nikola Pasic Square, hall 2)

13.00 - press conference of MP Nada Kostic (National Assembly House, 13 Nikola Pasic Square, Central Hall)